Cooper & Charlie Zeiberg
(he/him/his)
Consultant Support
Cooper and Charlie, both Golden Retrievers rescues, can be found wandering the office of Zeiberg Consulting, providing a productive diversion from our daily consulting activities. Cooper was found as a stray in Arkansas and brought to a kill shelter where he was never claimed. He was scooped up by a CT-based rescue group, Little Pink Shelter and provided foster care until we were lucky enough to be chosen amongst numerous applications as his humans.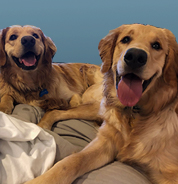 Three years later, while scrolling Facebook, we came across a lost dog, a Golden Retriever, being held by Danbury Animal Control. Charlie was found as a stray in front of the Trader Joe's in Danbury. Once it appeared that his owner could not be found, we put in an adoption application. We were selected again, amongst numerous applications, to meet Charlie and see how he got along with Cooper. They were instant playmates; like they were always brothers. We definitely won the Golden Ticket, twice over!

This goes to show that with resourcefulness and patience, you can find a beautiful and loving rescue. Each year, 2.7 million adoptable dogs and cats are euthanized in the United States, simply because too many pets come into shelters and too few people consider adoption when looking for a pet. The number of euthanized animals could be reduced dramatically if more people adopted pets instead of buying them. When you adopt, you save a loving animal by making them part of your family and open up shelter space for another animal who might desperately need it. You can change a homeless animal's whole world, and you can be sure they will change yours too!